Silly me! I posted on Instagram this morning about my bread recipe with a link to this blog, but then realized that my focaccia bread recipe wasn't actually there – just the incredibly high fibre version called Keto Magic Flax Bread. So here's the regular bread…
This morning, I added 1/2 tsp cinnamon and about 3/4 cups chopped pecans to make a "sweet" version of my bread. Less ideal for soups and stews, but very satisfying as a breakfast bread.
I love my silicon mat for baking this bread. So simple. But parchment paper will work too. Use your biggest baking sheet and spread it out evenly.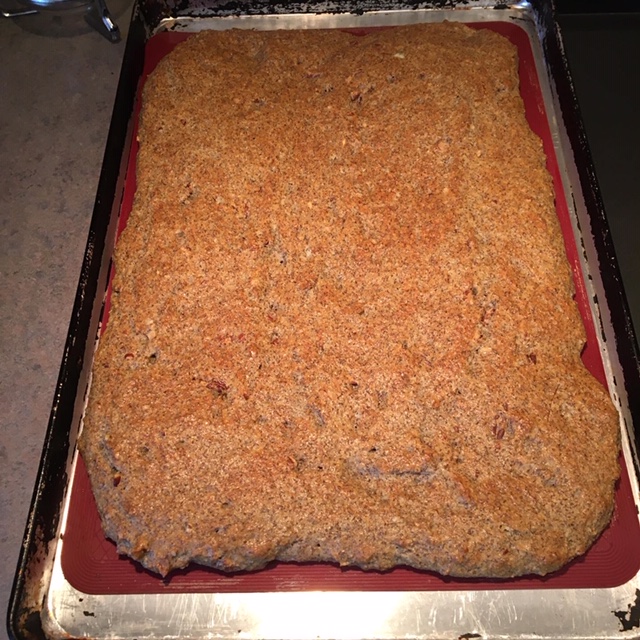 Low Carb Focaccia Bread
A nutmeal or seedmeal based flatbread, easy and endlessly variable.
Ingredients
2

cups

almond flour, ground pecan flour, flax meal, ground chia seeds or any combination of the above.

One cup should be either flax or chia for their gumminess factor.

1

tbsp

baking powder

1

tsp

salt

2-3

pkts

non-nutrititive sweetener

Stevia, monkfruit, erythritol, etc.

5

eggs

1/2

cup

water

1/3

cup

light oil (olive or avocado)
Instructions
Preheat oven to 350F. Prep a large baking sheet with a silicon mat or parchment paper.

In a large bowl, whisk together the dry ingredients until there are no baking powder lumps. In another bowl whisk the eggs, water and oil until smooth and no stringy egg white bits remain.

Pour the wet ingredients over the dry and whisk together until smooth. Let sit for 2-3 minutes for the fluids to be absorbed by the flax/chia and the mixture will stiffen up. Don't leave too long or it will be hard to spread.

Pour onto prepared baking sheet and level out to about 1/4 inch thick. Form into a rectangle for easy slicing later.

Bake at 350F for 20 minutes. Mixture will rise slightly and be firm in the middle.

Let cool for a minute or two. Slice with a pizza wheel or knife into 3 x 6 pieces for 18 slices.

Optional add-ins: For a "sweet bread" version, you can add cinnamon, nutmeg, cloves, ginger, or pumpkin pie spice blend. Adding a few nuts gives a nice texture – chopped pecans are my favourite. For a savoury bread, you could add garlic powder, onion powder, black pepper. It could also be used as the base for a focaccia-style bread with sauteed and seasoned onions sprinkled over the top before baking.
*Amazon links included in this article. If you click through on these links, I get a small commission on purchases, which helps me to continue with this work.